TigerTales: Concept & Experience
The ones in power, the Tigers, ambitiously, uncritically and self-content climb upwards.
Pull the Tiger in the tail and tell tales of your own.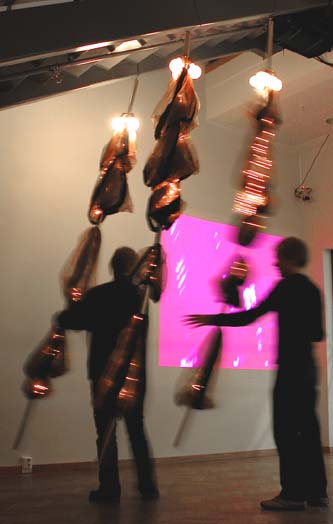 Pull the Tiger tails hanging from the roof sideways and create your own light, sound and graphics.
Create your own music, dance and move your body in the interactive installation. TigerTales responds to your movements in music, light and in dynamically changing graphics. TigerTales explores how music and a physical environment can motivate people to create and collaborate. TigerTales was made specially for the opening of the University education Interactive Sound Design at Hässleholm House of Culture on February 19 in 2005. The opening event was a collaboration between Hässleholm House of Culture, Norra station and Kristianstad University.